How to Become a Content Marketing Expert For Your Blog/Business
In this digital age, it has never been more important to ensure the strength of your content. Faced with consumers' increasing need for speed, good content marketing is crucial to helping you make the most of their valuable attention—and hopefully translate it into increased support and sales for your brand.
Fortunately, today's digital resources have made it easier than ever to get started with content marketing. Here, we'll provide a brief introduction to this endlessly fascinating form of marketing, and throw in some of our best tips and tricks to help you get off the ground.
What is Content Marketing?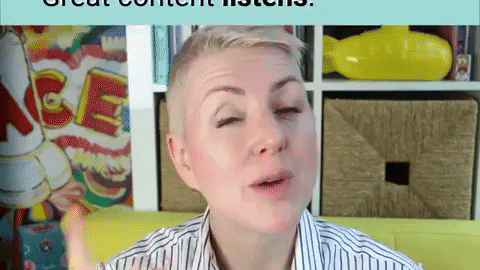 Put simply, content marketing is the practice of creating and distributing content to engage—and retain—a key audience for your work. It goes without saying that truly effective content is clear, relevant and consistently caters to the audience's needs and wants. However, the question of how to create it (and the best way to publish it) is something only you can answer.
Content marketing is not new: businesses have been promoting their work in print media, such as brochures and newspapers, for generations. But the unstoppable rise of digital platforms such as social media has revolutionised the form. Now, it is easier (and cheaper!) than ever to release your content into the cybersphere—but the issue of making sure that it's actually seen by the audience you're targeting remains just as tricky.
What is the Purpose of Content Marketing?
Contrary to its name, the main goal of content marketing is not to make a sale, although it can definitely boost your chances of success. Rather, it is something called a "pull strategy": meant to rein consumers in right when they're in search of your products and services, to spark their interest in your brand, products and services. Because before you dive into a hard sell, you need to capture your audience's attention—and convince them why your brand is the best choice.
What Types of Content Marketing Are There?
Social Media
By far one of the most popular forms, social media has rapidly established itself as the newest and most exciting frontier of content production. It is a broad term that encompasses a veritable cornucopia of platforms, suiting a variety of content needs. Some of the most popular digital channels include:
The world's most popular social network currently has 2.27 billion monthly active users, and that staggering figure is projected to continue rising. Its ubiquity among content creators and business owners alike is explained by its massive reach as well as its impressive range of features, such as multimedia support and customer feedback channels. Best of all, its free e-learning courses offer courses and advertising tools to help you start off right.
Once a modest photo-sharing app, this hugely popular platform has become a social media juggernaut, commanding 1 billion monthly active users. With a whopping 62% of its user base between the ages of 18 and 34, Instagram is especially useful for reaching out to that ever-elusive youth demographic. But even if you're an absolute novice at filtering photos and writing captions, you'll catch up in no time with free courses on sites like Facebook Blueprint and Skillshare
Videos
Though this medium is certainly nothing new, the rebirth of video on some of today's most popular digital channels, like YouTube and Instagram, means that it remains one of the best ways to capture—and retain—your audience's attention. While it is true that this form of content can be one of the hardest (and most expensive) to produce, you can also expect some of the highest returns known to the field of content marketing. And with a little guidance from YouTube Creator Academy, you'll be on track to growing your audience exponentially.
Articles
Traditional media has continued to endure into the 21st century, and that includes some of its most well-established formats. Articles as a medium have made a new home for themselves in the cybersphere, known for their versatility and ease of access. Whether you're setting up a blog for your business or contributing to a trade magazine, you'll pick up all you need to know on free sites like Coursera and Udemy.
Graphics
Another holdover from the age of print media, graphics—in their various forms—remain as effective as ever. Whether it's editing photos of your inventory or creating infographics about your industry and business, there's never been a better time to learn how to create eye-catching graphics. And with a couple of courses on Canva and Alison, you'll be designing like a pro in no time.
How is it Done?
Armed with some basic knowledge of content marketing strategies and a few key questions, you too can become a content marketing expert. Here are six essential steps in crafting an effective marketing strategy for your business.
Understand Your Content Needs
So you know you need fresh, original content to put your brand out there. But you don't know exactly what kind, how much, or how to create it. Where do you even begin?
A good place to start is to consider your target audience. As a content creator, you should always be thinking from the perspective of those who'll consume it: what do they look for in a piece of content? Which platforms do they use most frequently? How much content is too much, and how frequent is too frequent? Once you've figured out the best way to get your content to reach the people you want, you've already won half the battle.
Clarify Your Purpose and Goals
Defining the kind of content you want to produce is also crucial to any content marketing strategy. Each piece of content usually has both a primary and secondary purpose; as a business owner or brand strategist, the secondary purpose of your content will almost always be persuasive in nature, to get audiences to support your products and services. That leaves your primary purpose open to your imagination.
Your content might be primarily informative, like an explanatory article on different styles of wedding dresses that also serves as an advertisement for your boutique. Or it could be mostly instructive, like a series of cake recipes that recommends the use of your top-of-the-line mixers. Whatever strategy you choose, make sure it's in line with the ultimate aim of your approach to content marketing: are you looking to simply raise awareness of your brand, or do you want to go a step further?
Choose the Right Distribution Channel
With a plethora of free, user-friendly platforms at your fingertips, it can be tempting to publish your content on every one to reach the biggest consumer base possible. But it's much more advisable to pick two or three platforms that are tailored to your specific needs and aims. Still, trying to choose from such a large range of platforms can be overwhelming.
When making your choice, keep in mind that certain channels are better suited to certain industries or audiences. For example, a travel agency looking to promote its services among young people might focus on a service like Instagram to play up the spectacular sights that customers can expect to see. It all comes down to who you want to reach, and which platform makes your content look most appealing.
Be Familiar with Your Target Audience
Of course, you mustn't forget to familiarise yourself with the key characteristics of your target demographic. (You wouldn't want to advertise palliative care services for the elderly using avocado memes!) One way to do this is by breaking it down into smaller groups, and coming up with unique traits for each of these communities. For example, consumers in the broad category of "youth" share certain attributes in terms of what they value in their content, but further segregating them by gender or interests might help you better tailor your content marketing strategy to specific groups.
Review Responses to Your Strategy
Content marketing doesn't occur in a vacuum: once you release your content into the world, it's always a good idea to take audience feedback into account. What do they like about your current approach? What did they respond negatively to? Are there ways you can improve audience engagement or increase the number of impressions?
Luckily, there's an array of tools available to measure your content metrics, both within the platforms themselves (like YouTube Studio and Facebook admin pages) and outside of them. Content marketing is all about audience receptivity, so make sure you're doing everything you can to enhance consumers' experience. The more accepting they are of your message, the more likely it is that you'll be able to convert them into customers later.
Stay Up to Date with the Latest Trends
Given the dynamic, ever-changing nature of social media, what you do after publishing your content is just as important as creating it in the first place. Keep yourself abreast of the latest content marketing trends across the globe and in your region, and make sure you're up to date on the most recent happenings taking place on your chosen platform. If it's something you can take advantage of, like a popular hashtag or brand-new fad, you can use it to boost your visibility.
CleverlySG@123
Leading Businesses in a Digital World